Posts: 11058
Joined: December 15th, 2010, 6:29 pm
Has thanked: 3067 times
Been thanked: 2406 times
Now that the season is over for basketball, bringing back the overall records since the conference began as it is currently sitting (2013 season).
Pretty clear top 2 in Boise and SDSU unfortunately. However I think their is a clear number 3 in the aggies. Now we just need to right the ship in bball.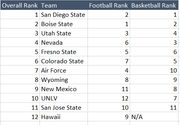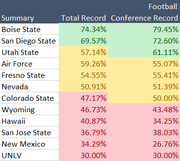 ---