Posts: 543
Joined: September 1st, 2015, 5:12 pm
Has liked: 1 time
Been liked: 14 times
Earlier this football season I was looking for my favorite USTATE long sleeve shirt, after searching I asked my wife if she had seen it and she said she threw it away because it had a hole.... I was pretty unhappy but rather than bite the hand that feeds, literally, I didn't bring it up again. Fast forward to today I discover the mysterious hole was a hoax, as a graduation gift my mother had taken a bunch of my old USU shirts and made a quilt, I was beyond stoked! It is so cool and one of my favorite Aggie items. I still kinda miss my favorite shirt but it went to a good cause!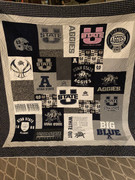 ---
---
Posts: 523
Joined: August 2nd, 2011, 10:56 pm
Location: Logan
Has liked: 49 times
Been liked: 16 times
Looks good! That's a good place to lose a shirt to.
Go Grizzlies, Jazz, Real SL, Seahawks, USA! Go Aggies!
---
Posts: 261
Joined: November 6th, 2010, 10:05 pm
Has liked: 218 times
Been liked: 2 times
Love it... I would sacrifice a few of my shirts for something like that!
---
Posts: 3888
Joined: November 3rd, 2010, 10:09 am
Location: Salt Lake City, Utah
Has liked: 0
Been liked: 93 times
My wife did the same thing to me for Christmas several years back. She told me that I had to get rid of a bunch of old Aggie t-shirts that I rarely wore. I wasn't thrilled, but relented. The quilt I have now is absolutely amazing.

Sent from my SM-N960U using Tapatalk


Formerly TulsAGGIE
---
2018 Kick-off Pick'em Champion
Posts: 7522
Joined: November 3rd, 2010, 8:17 pm
Location: Smithfield, Utah
Has liked: 2016 times
Been liked: 1074 times
Contact:
My wife knows better than to ask me to get rid of any Aggie stuff. The blanket is cool though!
---
Posts: 779
Joined: November 4th, 2010, 9:35 am
Location: Lindon, UT
Has liked: 4 times
Been liked: 20 times
good stuff...i wanna see it next time we're up there
"I'm much more comfortable criticizing people behind their backs." George Costanza
---
Posts: 986
Joined: December 26th, 2010, 8:43 am
Location: Copenhagen, Denmark
Has liked: 0
Been liked: 38 times
---