Posts: 35
Joined: February 17th, 2022, 6:36 pm
Has thanked: 5 times
Been thanked: 5 times
The basketball team has donned throwback inspired jerseys the past few season. One logo that I would like to see make an appearance is the interlocking USU logo. With the help of ProvoAggie's logo artwork I attempted my own rendition of fauxback shorts.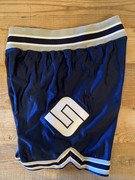 ---