It may be different in college, but in the NBA you can take a step or two, pause to smoke a cigarette, have a word with your coach, take breather on the bench for a few minutes and then make the shot and they will give it to you.
---
Posts: 699
Joined: December 17th, 2018, 12:46 pm
Has thanked: 165 times
Been thanked: 261 times
I keep hoping for a fair game to be called when we play YBU, but that's stupid of me.
---
I am glad that folks can remember how continuation gets called.
---
OrangeCountyAggie

wrote:

↑

December 5th, 2020, 11:45 pm

I keep hoping for a fair game to be called when we play YBU, but that's stupid of me.
So true, I feel the same way.
---
Posts: 667
Joined: December 20th, 2012, 6:49 pm
Location: Castle Rock, CO
Has thanked: 203 times
Been thanked: 158 times
Winning Team

wrote:

↑

December 5th, 2020, 9:31 pm

I dont know what you are looking at? You are saying he had enough time for a bang bang play to happen before he got the shot off? He had the ball for like .3 seconds?
Yeah, it looks to me like Worster wasn't fouled in the act of shooting. It looks like he knew he was going to get fouled, got fouled, then tried to put up a shot. The old Chris Paul move. Didn't work.
But it's bang-bang when a ref is sitting there in the chaos and it's happening in real life. I think it's not an objectively bad call.
"The trouble with the world is that the stupid are cocksure and the intelligent are full of doubt."

- Bertrand Russell
---
Pick'em Champ - '15, '16, '17 WTHCG
Posts: 6426
Joined: January 10th, 2003, 12:00 am
Location: northeast Iowa
Has thanked: 412 times
Been thanked: 149 times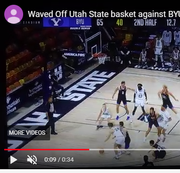 I see contact being made, and the ball is on the floor - not in his hand.
he proceeds to pick up the ball an chuck it at the backboard.
---
SJSU Ultimate Loser Award Winner - Given to someone that should probably give up but won't.
Posts: 17908
Joined: November 3rd, 2010, 8:09 am
Location: Where the sagebrush grows!
Has thanked: 921 times
Been thanked: 982 times
Even funnier, the BYU player wanted to try and draw a foul. He flopped hard.
---
Posts: 978
Joined: November 27th, 2010, 7:43 pm
Has thanked: 2 times
Been thanked: 73 times
Mr. Sneelock

wrote:

↑

December 5th, 2020, 11:21 pm

SpectrumMagic

wrote:

↑

December 5th, 2020, 11:16 pm

Sneelock - I think we have all seen plenty of continuation calls in NCAA. Let's be honest. If this is a big name team star or all conference player they get the call.

Also I think Rollie being a freshman played a part in the double T as well.

Different rules for different players - same could be said for life in general

I guess we'll have to agree to disagree then. In my view, it was the right call, and though we can never know if it would have been called differently in a different universe with different teams and players, in my view, if it had been, it would have been the wrong call.
Trust me that in the Marriott center it would have been good.
---
Posts: 1502
Joined: January 16th, 2011, 8:11 am
Has thanked: 5 times
Been thanked: 121 times
Pretty easy call. Worster was dribling the ball, not shooting it when he got fouled. Refs made the right call.

---
Posts: 618
Joined: November 13th, 2010, 7:34 pm
Has thanked: 149 times
Been thanked: 67 times
Agree, Worster was not in the act of shooting when the foul occurred. Great heads up play by him to quickly get off a shot and make it though. Will serve him well at the next level... assuming he becomes the player we all want him to be.
---