Posts: 574
Joined: November 3rd, 2010, 10:52 am
Location: Logan, UT
Has thanked: 27 times
Been thanked: 214 times
Contact:
Let's talk a little about the biggest CBB collapses of 2019-20 with the help of kenpom.com
Pomeroy, as part of his win probability calculators, has a comeback ranking. Currently, we are No. 2 behind the Stephen F. Austin/Duke game which SFA won. The ranking is based on "what was the minimum win probability -- at any point of the game -- for a team that ended up winning?"
SFA, as it is, had a minimum win probability of 0.1 percent in their game.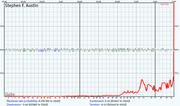 As you see from the graph, though, Duke having the high win probability all was early in the game. It wasn't until about the 10 minute mark that Duke's win probability started slipping. Most striking is that Duke retained about a 75 percent win probability going into OT and it wasn't until the end of OT that their WP collapsed completely.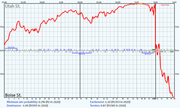 Our graph is quite different. Although we didn't have the high win probability throughout the first and most of the second half (because USU/Boise is a closer matchup than Duke/SFA), our win probability did get up to 99.8 percent until about 4 minutes to go, and then although fluctuating a bit, got to 99.3 percent with just seconds remaining.
If you're curious what the other games where teams were longshots to come back are, here are the Top 30.
With all due respect to Duke vs. SFA...I think we can take the cake for biggest collapse of the year.
These users thanked the author rAggie for the post:
---
Posts: 3303
Joined: November 15th, 2010, 10:13 am
Has thanked: 8 times
Been thanked: 274 times
Damn...I think we've finally the Aggies have hit their pinnacle. Finally, right up there with Duke University in the baskeball universe. Enjoy it while it lasts...its all downhill from here.
---
Posts: 1052
Joined: December 1st, 2010, 7:51 pm
Has thanked: 433 times
Been thanked: 241 times
Biggest collapse since the Monstars vs. the Tune Squad.
These users thanked the author aggieguy13 for the post (total 2):
---
Posts: 574
Joined: November 3rd, 2010, 10:52 am
Location: Logan, UT
Has thanked: 27 times
Been thanked: 214 times
Contact:
For what it is worth, there have only been 12 other games since 2010 -- including the Duke/SFA game this year, where a team has had a win probability of 0.2 or less and come back to win. So we get to join that club.

The other games, because I have no life:

2011 - Miami 69 Virginia 62 (OT) - 0.2
2014 - Arkansas Little Rock 85, Southern 82 (OT) - 0.1
2015 - Navy 70, Colgate 69, 0.2
2015 - Southern Miss 63, UTEP 60, 0.2
2016 - Texas A&M 92, Northern Iowa 88 (2OT), 0.1
2016 - Canisius 108, Louisiana Monroe 96 (3OT), 0.1
2017 - Nevada 105, New Mexico 104 (OT), 0.0 (!!!)
2017 - High Point 62, Norgan State 61, 0.2
2019 - Charlotte 66, Oklahoma State 64, 0.2
2019 - Campbell 68, Radford 67, 0.2
2019 - UTSA 74, Old Dominion 73, 0.2
2020 - Duke/SFA

Had to look up that Nevada/UNM game, UNM was up 90-76 with about 2 minutes left...yikes, that one is worse than ours.

Finally, we have been on the Top 100 of Comebacks before:

2014 in the MWC Tournament, we came back to beat Colorado State 73-69, we had a win probability of 1.4 at one point of that game, ended the game with a 15-2 run.
---