---
Posts: 2676
Joined: October 1st, 2013, 9:11 am
Has thanked: 91 times
Been thanked: 445 times
I think it is a great way to compare programs. I take issue with some of the assessments, but the layout and criteria are quite good. I don't think we have the 6th best facilities in the conference. I would rate us somewhere in the Top 4, based on my knowledge. I'm also wondering what the individual coaches' knowledge of these facilities is. Recruiting Base may be a bad indicator, as most basketball recruiting is a national deal these days given that you only need two or three guys per year on average.
Jordan Nathan's ACTUAL #1 Fan
---
I disagree.
I would rank Utah State top 10 desirable.
Low cost of living and good salary = Good living
Big homes are not that much.
Don't have Duke level pressure.
Fielding a good team and has rep for good basketball in the area.
Basketball first school
Great fun with crowds of basketball craziness.
---
---
Posts: 1555
Joined: November 5th, 2010, 10:09 am
Has thanked: 11 times
Been thanked: 33 times
Do we really have only 9th media exposure? What years is this based on?
Game Atmosphere, I'm not sure New Mexico is that great right now, but great tradition. San Diego State has been good lately but do they have a long history?

I really think they are off on recruiting base. Utah is a fertile recruiting ground and Idaho is pretty decent too. Several of the best JCs are located in Utah and Idaho, which we have great access to. Does Air Force really have that great of recruiting base. San Jose? San Jose may have lots of recruits in the area but have no access to them. Does Boise or Nevada really have an advantage in recruiting area? I think not.

I'd be curious to know the selling pros of other schools. We have many very successful players that play overseas. Jaycee being very notable but many others who have played Europe, New Zealand, etc...
---
Posts: 2751
Joined: November 3rd, 2010, 12:07 pm
Has thanked: 38 times
Been thanked: 565 times
I can see putting SDSU, UNLV, UNM, and Nevada above us. I don't see a compelling argument for any of the other schools being above us. Our history and atmosphere is that much better than the others and should be weighed more heavily, IMO.
---
Posts: 589
Joined: November 3rd, 2010, 9:43 am
Has thanked: 47 times
Been thanked: 55 times
I'm intrigued.
No way we're the 9th best job in the MWC, but I do appreciate the approach.
I got interested and ran a correlation analysis to see if there was a single parameter that did a good job of predicting the final overall ranking. I hadn't caught this before, but there is a 100% (1.00; i.e. perfect) correlation between media exposure rankings and the final overall rankings. (That may be a loaded observation.) The next best correlation was actually a tie between facilities and selling pros, at 0.909. In some ways it makes sense that those two are closely related and apparently good predictors of program success. Incidentally the lowest correlation was, as suggested by Coloraggie, "recruiting base", with a correlation of 'only' 0.636. Not perfect or very scientific, I know. But I thought it was interesting. For reference, here's how the rest of the parameters looked...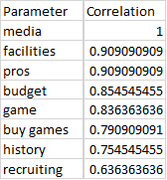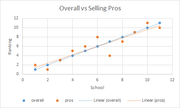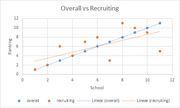 These users thanked the author ShowMeAggie for the post (total 2):
---
Posts: 439
Joined: February 15th, 2019, 1:58 pm
Has thanked: 60 times
Been thanked: 152 times
I wonder how Captain Smith rated Utah State in each category? His vote is the only one I care about but it would be interesting to see what Tim thought.
---
Posts: 1524
Joined: November 3rd, 2010, 4:34 pm
Has thanked: 570 times
Been thanked: 204 times
I disagree with one area USU is near the top in game atmosphere, perhaps second at least. The other rankings are close. I would put the job at 7th or 8th overall. Local Media exposure, recruiting base, and social life are about what was reported..
---
Posts: 913
Joined: January 25th, 2011, 12:15 pm
Has thanked: 717 times
Been thanked: 123 times
It's gotta be a toss up between UNM and Utah State.
---
Posts: 1203
Joined: November 6th, 2010, 9:04 pm
Has thanked: 1 time
Been thanked: 72 times
It is very subjective and therefore hard to measure, but I think it speaks a lot if coaches are willing to stay and retire at a school. In the MWC, in the last 10 years, I can only think of SDSU and USU as schools where coaches have retired. Either they are let go or they move up - the two common scenarios that we see played out over and over.

But if a school has a good enough job to have a coach willing to retire there, I think it should account for something.

Can anyone think of any other schools where the coach retired at a MWC university in the last 10 years?
---
Posts: 1524
Joined: November 3rd, 2010, 4:34 pm
Has thanked: 570 times
Been thanked: 204 times
Of course hiring Utah based coach's help's in keeping them in Logan sometimes you get a real good one like Stew other times Kohn Smith is the result. Larry E, and Coach Smith are the ones that may be a little harder to keep.
---