Posts: 1438
Joined: November 2nd, 2018, 7:52 am
Has thanked: 1338 times
Been thanked: 920 times
Hale Motu'apuaka compete and won the World Fire Knife Championships last night, defending his '21 title. This is his 3rd World championship! Awesome job Hale!
https://worldfireknife.com/results/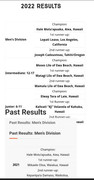 Go Aggies!
---
Posts: 1972
Joined: November 18th, 2018, 9:07 pm
Location: Holladay Utah
Has thanked: 671 times
Been thanked: 1121 times
So cool. Such a good guy when you hear him in interviews as well!
---
Aggie Insider, Pick'em Champ - '18 Kickoff, '19 Weekly
Posts: 14221
Joined: November 3rd, 2010, 8:17 pm
Location: Smithfield, Utah
Has thanked: 12011 times
Been thanked: 7712 times
Contact:
---
Pick'em Champ - '17 FB Predict the Score
Posts: 8672
Joined: November 3rd, 2010, 7:57 am
Location: Syracuse, UT
Has thanked: 166 times
Been thanked: 639 times
How this kid isn't doing commercials for two or three businesses is beyond me.
These users thanked the author BigBlueDart for the post (total 3):
---