A Synopsis of the Defensive Scheme Argument
Posted: December 26th, 2019, 11:33 am
Gary Andersen was hired at USU prior to the 2009 season. After two seasons at USU, Gary determined that it fit USU's personnel and recruiting strengths to switch from a 4-3-4 (4-man front) to a 3-4-4 (3-man front) base defense. This decision would prove to pay off immensely. USU would go on to relative prodigious defensive success the next 8 seasons.
(I understand USU was in a 4-2-5 base defense this year and 3-3-5 base defense last year. The main premise is still there with the idea of playing a 4-man front straight-up man-to-man football (e.g. put your hand in the dirt and beat your guy off the block) vs. a 3-man front with more disguised and routine blitzing like we had become accustomed to seeing at USU.)
USU found a niche at LB where it was a position USU could recruit to by finding hidden gems and taking players who played other positions and switching them to LB. They could put on weight and muscle, learn the position, and find success.
Earlier this year, a New Orleans newspaper wrote an article about Dave Aranda and the defensive scheme at USU. Here are segments the article:
....McMackin told Andersen: "Gary, there is one guy you need to hire, and it's Dave Aranda". The deciding factor came down to scheme.

Andersen was shifting Utah State's defense from a four-man front to a three-man front. The Aggies' personnel demanded the change, Shaver said, because it's tough at that level to obtain enough true defensive linemen to run a 4-3 defense.

Utah State had a high supply of linebackers and Aranda, although he had run a four-man front at Hawaii, was innovating his defenses with something he called "simulated pressure."

Aranda was concocting pressure in opposing backfields by creating favorable matchups between his defenders and the offensive blockers, and he believed the system could be even more successful if an extra skill player was used on the field instead of another lineman.

"We had an idea of what we wanted to do," said Clune, a former linebackers coach at Utah State who now coaches the same position at Memphis. "We were turning the corner, and with Dave coming in, he put his fingerprint on it, and we took the next step."

The system flourished in the final season of the Western Athletic Conference — a league that was jam-packed with teams that had completely different offensive ideologies.

..."He wanted to show a different pressure," Shaver said. "Get them guys to check their protection and bring it a different way. So, basically a cat and mouse game with the offensive line."

...Those ideas set records at Utah State.

The Aggies recorded 42 sacks in 2012, tied for seventh nationally, and the defense set a school record with 13 sacks in a 49-27 win over San Jose State — a team that eventually went 11-2, the school's best record in history, and finished No. 21 in the AP polls with future NFL quarterback David Fales.
Then in 2019, when Gary was re-hired, a successful defense returning many starters from 2018 switched to a 4-2-5 base. As fans, we've had little to no explanation as to why this switch was made.
Two successful LB's (
Tipa & Te'i)
were switched to DL. This is the scheme the new defensive coordinator, Justin Ena, had been a part of at Utah. The perception among Aggie fans is that all of a sudden we weren't seeing the pressure on the QB we were accustomed to and the defense seemed to take a step backwards. If Gary previously identified that USU needed to switch to a 3-man front and then had success, why switch back to a 4-man front?
Let's look at what some advanced analytics say. There are rating systems that look at various factors of advanced analytics and weight things such as strength of schedule. I know this was our most difficult schedule of the modern times, but these rankings adjust for that. I looked at three of the more popular and respected ones and took an average.
(The border lines indicate the period in which USU switched to a 3-man front. These rankings also have yet to update after the bowl games in which USU will surely drop more.These rankings are out of a total 130 FBS teams.)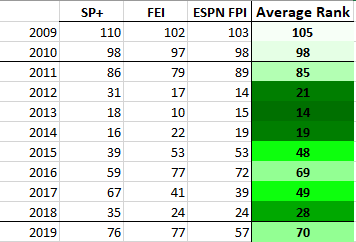 Also, while sacks are simply a small fraction of defensive success, I noticed a correlation between overall defensive ranking and the amount of sacks USU has had in a season.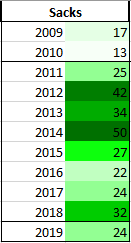 Next, I wanted to look at all the defensive players that have made the NFL from USU the past 8 seasons. Does USU really have more success with LBs than DLs? This list is from football reference. It includes players that have played in an NFL game. It does not include practice squad signings.
(I'm including Woodward because he was so dominant in college and as long as he stays healthy he's a sure fire guy to play in an NFL game. Keep in mind it also excludes some great college LB's like Jake Doughty.)
Look at the evidence here. 7 guys who played LB at USU have played in an NFL game. That's a high % of players who played LB at USU because some of those guys started for multiple years. Not a single DL has done it, yet.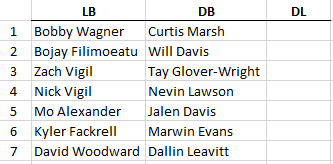 I know there's more variables and ideas behind the defense that go well beyond the surface or the data that is presented here. My intent is not to excoriate the coaching staff. I just think what the fan base really wants is to hear a real explanation for the switch from Gary and Ena and why they think it will work going forward when Gary didn't think so previously. Some response to a few of these critiques and a method behind the madness would go a long ways I think.
https://www.theadvocate.com/baton_rouge ... 6062b.html
https://www.footballoutsiders.com/stats/feidef/2019
http://www.espn.com/college-football/team/fpi/_/id/328
https://www.pro-football-reference.com/schools/utahst/